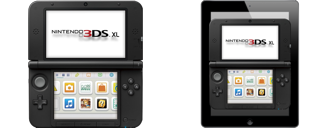 The
Nintendo 3DS XL
, known in Japan as the
Nintendo 3DS LL
, is a planned portable game developed y Nintendo It was announced on June 21, 2012, during its Nintendo Direct broadcast and will be released on July 28, 2012 in Japan in red, blue, and white for and Europein red, blue, and silver. It will also be released on August 19, 2012 in North America also in red, blue, and silver. It will have a bigger screen than the original 3DS (90% bigger; top: 4.88 inch, bottom: 4.11 inch).
]
It will also have a longer batterylife than the 3DS. A 4GB SD card will also come with the package.
Length 156mm x Width 93mm x Height 22mm (closed) Weight: 336g. 4.88" top screen, 4.18" bottom screen.
More Info:
http://en.wikipedia.org/wiki/Nintendo_3DS_XL
View it in RealSize (open)
View it in RealSize (closed)
Read More...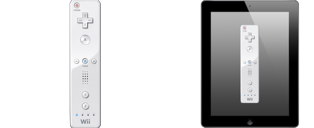 The Wii Remote, is the primary controller for Nintendo's Wii console. A main feature of the Wii Remote is its motion sensing capability, which allows the user to interact with and manipulate items on screen via gesture recognition and pointing through the use of accelerometer and optical sensor technology. Another feature is its expandability through the use of attachments. The attachment bundled with the Wii console is the Nunchuk, which complements the Wii Remote by providing functions similar to those in gamepad controllers. Some other attachments include the Wii Classic Controller, Wii Zapper, and the Wii Wheel, originally used for Mario Kart.
More info in:
http://en.wikipedia.org/wiki/Wii_Remote
View it in RealSize