The DMC-3D1 is an innovative compact digital camera incorporating a 2-lens optical system in a small body. This remarkable camera lets you enjoy LUMIX's high-quality images in both 3D and 2D by shooting, viewing and sharing them.
Official information:
http://panasonic.net/avc/lumix/compact/3d1/index.html
View it in RealSize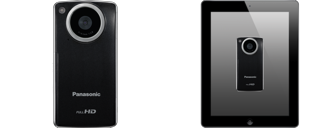 Upload your favorite movies. It's a snap!
Easy Web Uploading. (HD Write PE 1.0 Embedded Software*)
Upload your movies onto YouTube'Ñ¢ and Facebook. As soon as you plug the TA1's built-in USB terminal into a PC, the embedded HD Write PE 1.0 application launches automatically. With operation this easy, you can instantly share your movies with your family and friends.
Official info:
http://panasonic.net/avc/mobilecamera/ta1/
View it in RealSize