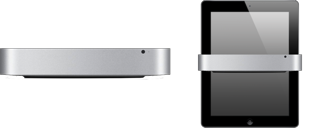 Sleek aluminum design. Easy access to memory. A built-in power supply.
The new Mac mini makes the most of every square inch.
Mac mini features a 1.4-inch-thin seamless unibody enclosure carved from a single, solid block of aluminum. It's created using computer numerical control, or CNC, machines — the same kind used by the aerospace industry to build mission-critical spacecraft components. This ensures absolute precision of every component of the Mac mini enclosure. Not to mention a stunning aluminum fit and finish that will make any desk proud.
Official info:
http://www.apple.com/macmini/
View it in RealSize
Combines a fanless 1.0GHz Eden™ X2 processor and the VX900H MSP
Supports hardware acceleration of MPEG-2, WMV9 & H.264 for full HD 1080p display
Supports comprehensive I/O functions on front and rear panels for diversified embedded applications, including lockable USB
Wide range of operating temperatures from -20°C up to 60°C
Shock resistant to 50G and vibration resistant to 5G for maximum reliability
Supports dual Gigabit Ethernet and optional Wi-Fi and 3G networking
Multiple mounting solutions: wall/ table/ VESA
Embedded OS ready platform
More information:
http://www.viaembedded.com/en/products/systems/productDetail.jsp?productLine=2&id=1870&tabs=1
View it in RealSize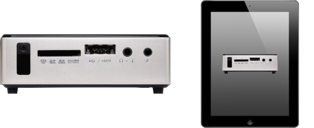 Experience a high-definition computing experience with rich graphics and web content with the extra small and pocket able ZOTAC ZBOX nano XS AD11 Plus. An AMD E-450 with Radeon™ HD 6320 graphics processing forms the heart of the ZOTAC ZBOX nano XS AD11 Plus and delivers stunning hardware-accelerated HD video online and offline, outstanding system-responsiveness and Microsoft® DirectX® 11 compatibility.
Storage in the ZOTAC ZBOX nano XS AD11 Plus is handled by a 64GB solid-state drive that delivers lightning-fast boot times for an instant-on computing experience. The tiny ZOTAC ZBOX nano XS AD11 Plus packs plenty of expansion capabilities and features with USB 3.0, USB 2.0 and eSATA expansion and an integrated IR receiver with bundled Media Remote to easily take control of the mini-PC from the comfort of a sofa.
Official information:
http://www.zotac.com/index.php?page=shop.product_details&flypage=flypage_images-SRW.tpl&product_id=442&category_id=148&option=com_virtuemart&Itemid=100266&lang=en
View it in RealSize