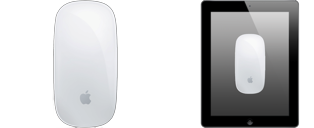 ntuitive, smart, dynamic. Multi-Touch technology introduced a remarkably better way to interact with your portable devices — all using gestures. Now we've reached another milestone by bringing gestures to the desktop with a mouse that's unlike anything ever before. It's called Magic Mouse. It's the world's first Multi-Touch mouse. And while it comes standard with every new iMac, you can also add it to any Mac with Bluetooth wireless technology for a Multi-Touch makeover.
Official info:
http://www.apple.com/magicmouse/
View it in RealSize
Unique design redefines what a mouse can be
With its breakthrough design, Logitech Cube redefines the computer mouse with a shape that fits in your hand and will fascinate your friends and family, colleagues and clients.
From mouse to presenter—effortlessly
When used as a mouse, Logitech Cube scrolls when you swipe your finger along the main panel. But lift the Cube in the air—and a moment later it's in Presenter mode. Clicking the Cube advances to the next slide. Go back? Simply turn the Cube over in your hand and click again.
Official information:
http://www.logitech.com/en-us/mice-pointers/mice/devices/9472
View it in RealSize