The new JVC GC-XA1 ADIXXION ups the ante in the action camera category by offering a range of features and capabilities that outpace competing models. Truly pocket-sized and weighing barely a quarter pound, ADIXXION is waterproof to a depth of five meters (16.4 feet), shockproof to withstand a fall from two meters (6.5 feet), dustproof and freeze-proof, all without the need for a separate housing. In addition, ADIXXION includes built-in Wi-Fi, 1.5-inch LCD monitor, image stabilizer and offers full HD 1920×1080/30p and 1280×720/60p recording.
More information:
http://newsroom.jvc.com/2012/06/new-jvc-adixxion-camcorder-ready-for-action/
View it in RealSize
Read More...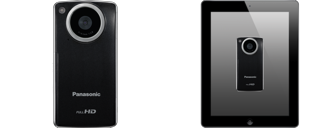 Upload your favorite movies. It's a snap!
Easy Web Uploading. (HD Write PE 1.0 Embedded Software*)
Upload your movies onto YouTube'Ñ¢ and Facebook. As soon as you plug the TA1's built-in USB terminal into a PC, the embedded HD Write PE 1.0 application launches automatically. With operation this easy, you can instantly share your movies with your family and friends.
Official info:
http://panasonic.net/avc/mobilecamera/ta1/
View it in RealSize