Apple Mac Mini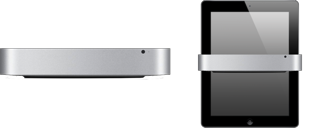 Sleek aluminum design. Easy access to memory. A built-in power supply.
The new Mac mini makes the most of every square inch.
Mac mini features a 1.4-inch-thin seamless unibody enclosure carved from a single, solid block of aluminum. It's created using computer numerical control, or CNC, machines — the same kind used by the aerospace industry to build mission-critical spacecraft components. This ensures absolute precision of every component of the Mac mini enclosure. Not to mention a stunning aluminum fit and finish that will make any desk proud.
Official info:
http://www.apple.com/macmini/
View it in RealSize